Scenario – 3: (30 points) Carefully review the following confusion matrix for a classification model. Consider "Fail" to be the class of interest. Answer the following questions Predicted Pass Fail Actual Pass 497 60 Fail 58 304 A.
What are the True Positives, True Negatives, False Positives and False Negatives? [10 points)
B. What is the accuracy of this model? [5 points)
C. What is the precision of the model? (5 points)
D. What is the sensitivity of the model? (5 points)
E. What is the specificity of the model? (5 points)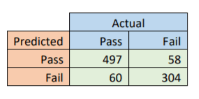 Solved by verified study co-pilot
All Study Co-Pilots are evaluated by Gotit Pro as an expert in their subject area.
Student review:
(22 ratings)

22 out of 22 people found this solution helpful.